There are less than 10 days left in 2020 to end. For the upcoming 2021, have LED companies "targeted" the next market? In 2020, LED companies will almost unanimously focus on the conference market, launching a number of different technologies. The LED all-in-one machine promotes the application reform of the smart conference market. For the upcoming 2021, what will be the next outlet? We are looking forward to it!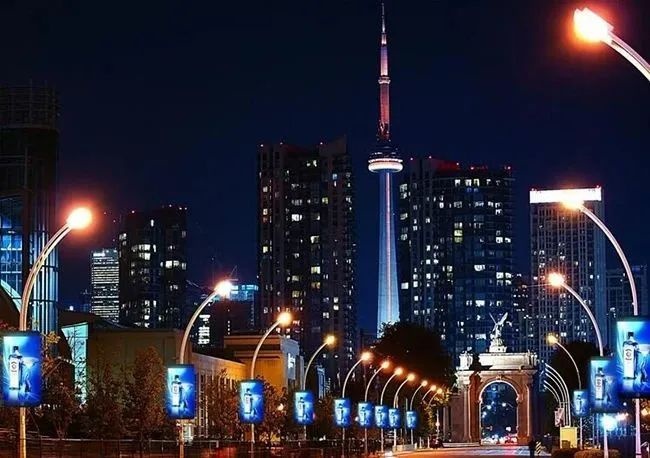 From the current point of view, many companies have focused on smart light pole products in smart cities. In 2020, "new infrastructure" has become the hottest word, and 5G base stations have been built in many places. Micro base stations are an indispensable supplement to 5G networking. Smart light poles, as the best carrier method for 5G micro base stations, attract many companies to grab the beach. Layout, LCF also launched a smart light pole screen and a multi-functional smart light pole system this year. At the same time, in 2020, the smart light pole market space driven by the construction of 5G base stations will reach 117.6 billion yuan. As a new entrance to the Internet of Everything in the city, smart street lights have reached the "battlefield".
Smart light poles are an important part of the construction of smart cities. It is a new information infrastructure that integrates functions such as cameras, advertising screens, charging piles, and small base stations. It can complete lighting, public security, municipal, meteorological, environmental protection, communications, etc. Data information of multiple industries is collected, released and transmitted. At the same time, as an important part of the construction of the Internet of Vehicles, cloud network and communication network in the 5G era, smart light poles will also be widely used.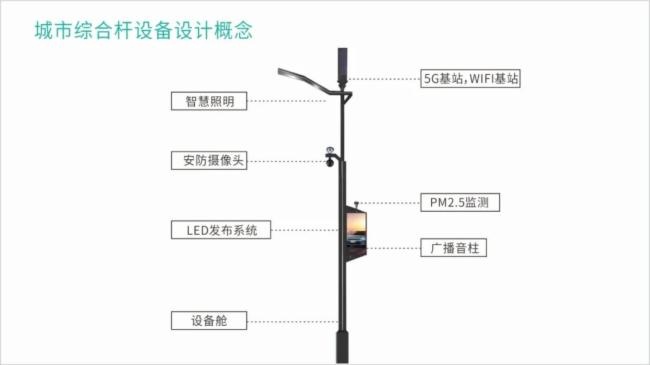 In the field of functional hardware, it can integrate communication poles, street lights, traffic monitoring, security and health, traffic instructions, roadside billboards and other functions in one; in the field of supporting resources, it can be equipped with multiple functional systems for carrying, power supply, communication, etc. Resource Integration. In short, a smart light pole is an application complex integrating smart lighting, smart transportation, public safety, energy business, information release, and wireless communication.
At the same time, it can also be seen that smart light poles are a complex that contains a variety of equipment and technologies, such as display technology, audio technology, intelligent recognition, etc. These technologies play a huge role in quantifying the city and improving the competitiveness of the city. Under this trend, the smart light pole industry has a bright future and a blue ocean in the future.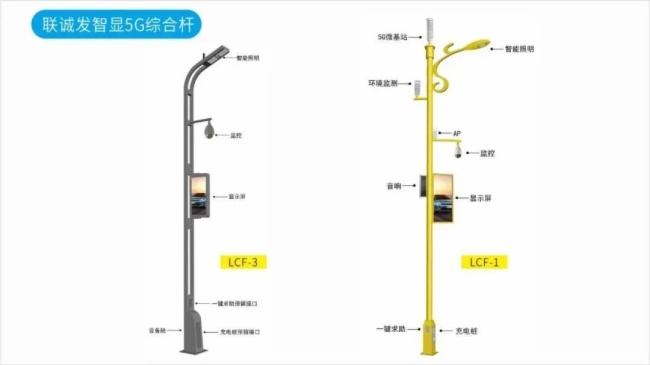 In fact, in 2020, as early as when the new infrastructure was proposed, LCF had made a far-reaching layout in the "smart light pole" project. The stability of the product has been tested in urban construction projects in many overseas countries and regions. , And also accumulated rich experience in project operation. LCF's business layout "New Infrastructure Series-5G Smart Light Pole", vigorously responds to the call of the country, seeks to deploy in the field of smart cities, provides the government with a stable and reliable overall solution, helps the implementation of "new infrastructure", and helps create new types Smart City.
LCF's self-developed urban integrated pole equipment integrates "smart lighting", "LED display", "security camera", "equipment compartment", "5G base station, WIFI base station", "PM2.5 detection", and "broadcast sound". "Column" as a whole; highly meets the necessary requirements for 5G network deployment; at the same time, the highly layered design concept can provide customized solutions for projects in different regions; the recommended product models are "LCF-1" and "LCF-2". It has been used in many domestic urban construction projects!
It is expected that the total number of smart light poles will reach 50,700 and 150,700 in 2020 and 2021, and it is a general trend for smart light poles to accelerate the replacement of ordinary street lights. If the unit price of smart light poles is calculated at an average price of 20,000 yuan, the potential market space in the future will reach 547.6 billion yuan. From lighting needs to convenience of life to security needs, to the development of the Internet of Things and 5G small and micro stations, to driverless and edge computing in the future, the demand for smart light poles is greatly increased. It can be seen that the size of this piece of cake of the smart street light pole project is huge! LCF will aim at "5G smart light poles" in the future and make efforts to "new infrastructure". Under the tide of new infrastructure construction, it is bound to have a grand vision.