On July 26, 2016, Shi Weili, Chairman of Shenzhen Lighting and Display Engineering Industry Association, Long Dongmei, Deputy Secretary-General, and Mr. Zeng Guangxiang, Chairman of Jiusheng Optoelectronics, visited the association member company Lianchengfa (stock code: 837293). Since its successful listing on May 19, Lianchengfa has been actively deploying at home and abroad, reaching a comprehensive strategic cooperation with Kugo.com, the "first domestic golf information and social platform", and launching the LCF Market world tour, and signing a number of independent overseas agents Business to expand overseas markets. It took 12 years to complete the perfect transformation from a local Shenzhen brand to an international famous brand.
Ms. Long Pingfang, the founder of Lianchengfa, extended a warm welcome to the arrival of Chairman Weili Shi and Chairman Zeng Guangxiang. Ms. Long Pingfang said: "Chairman Shi and Chairman Zeng are both veteran figures in the industry. I am very surprised to visit Lianchengfa today." Lianchengfa hopes to develop for the company through exchanges and learning between industries. Bring more changes and progress. Later, Ms. Long Pingfang had an in-depth exchange with everyone on the development of Lianchengfa 519 since its listing.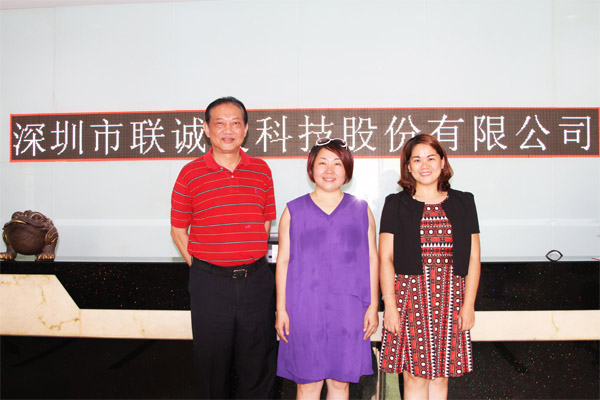 Group photo of Chairman Weili Shi, Deputy Secretary-General Long Dongmei and Ms. Long Pingfang
It is reported that since its establishment in 2004, Lianchengfa has focused on the LED display industry for 12 years, and has accumulated more than 30,000 successful cases at home and abroad, which can be described as fruitful. After the successful listing on May 19 this year, Lianchengfa has signed a number of independent overseas agents to make a better layout for expanding overseas markets. Lianchengfa has also completed the transformation from Shenzhen local brand to Shenzhen in 12 years. The perfect transformation of international famous brands.
President Shi Weili expressed his appreciation for the brilliant achievements of Liancheng Discovery today, and spoke highly of Lianchengfa's corporate culture construction and market strategy. Chairman Shi said that Liancheng has been deeply involved in the LED display field for 12 years, and its products are distributed in major cities at home and abroad. Lianchengfa has been involved in the construction of display screens for the 2008 Beijing Olympic Games, the 2010 Shanghai World Expo, and the 2012 European Cup Ukraine stadiums. The results achieved in the past 12 years are obvious to all. I wish Lianchengfa will speed up the pace of going global after being listed on the stock market, develop more diversified business, and become the world's leading display enterprise brand.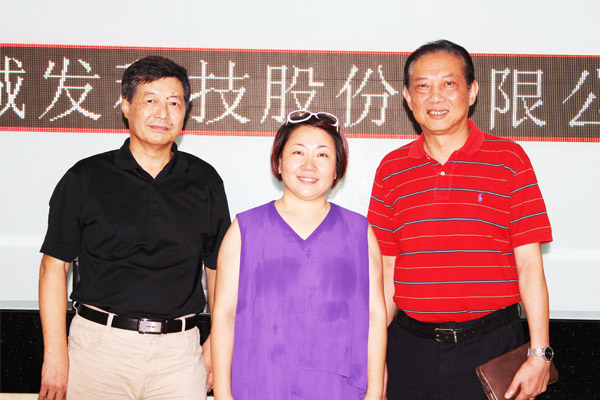 Group photo of Mr. Zeng Guangxiang, Ms. Long Pingfang and Chairman Weili Shi
During the exchange, Ms. Long Pingfang said that in order to better expand market development, increase the construction of self-media forces, build a more sophisticated R&D team, win better technical support, develop more new products, and better Serve the market. Ms. Long Pingfang hopes to communicate more through tea parties among colleagues. This proposal has been strongly supported by Mr. Long Guangxiang.
Lianchengfa has used 12 years to make LCF famous all over the world. The future development of Lianchengfa is more worth looking forward to!