On June 21, 2020, "Searching for Treasures in the Bay Area, Sailing Through Bridges"-Bao'an District's major projects and industrial space resource docking will be officially launched at the Bay Area New Technology and New Products Exhibition Center. Under the epidemic situation, Bao'an's pace of "inviting excellent businessmen and good businessmen" has not stopped. This is also the second meeting of Bao'an's major projects and industrial space resources matchmaking activities. As a key enterprise of Hangcheng Subdistrict Office, LCF is also invited to participate in the exhibition; this time, Hangcheng Subdistrict builds a docking platform, where enterprises conduct supply and demand demonstrations, and promote upstream and downstream enterprises to develop products, services, technology, etc. as content. Join, work together and seek common development. Leaders at all levels in Bao'an District were present to observe and guide!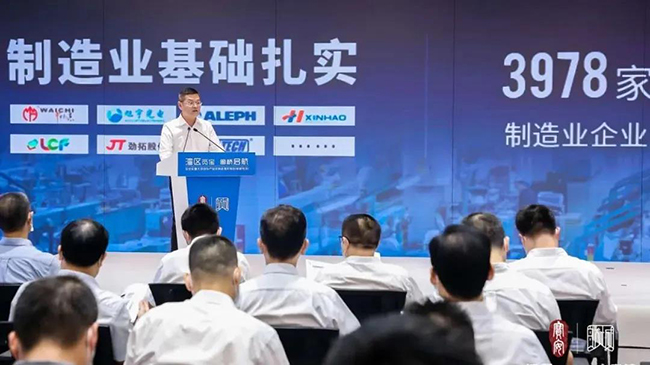 Ma Ming, Deputy Secretary of the Party Working Committee and Director of the Office of Hangcheng Sub-district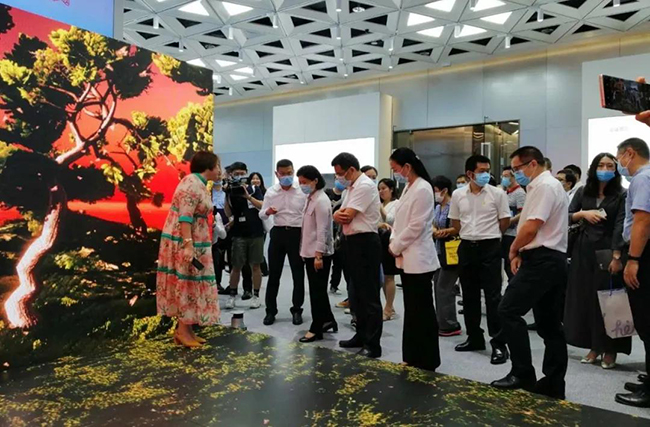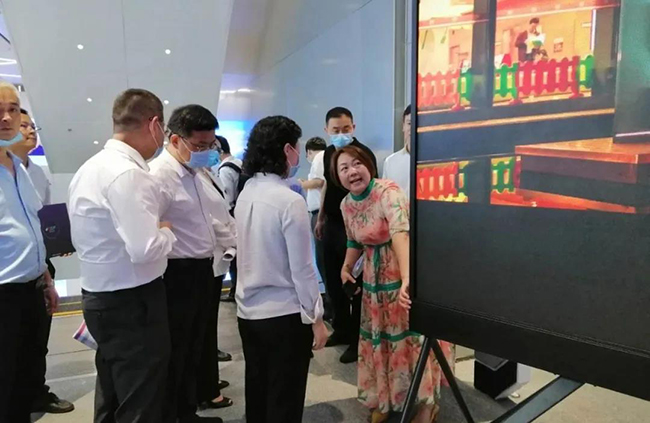 Ms. Long Pingfang made product introduction for the leaders
Another one, "Smart Conference All-in-One" is one of the latest generation of LED intelligent products on the market! Standardization (16:9), smarter, to meet the blank market (above 110 inches) that DLP/LCD products cannot meet! LTV2.0 has functions such as smart screen connection, video conferencing, remote collaboration, meeting records, etc., remote video conferencing, to meet the requirements of multiple video window display, smart screen projection, and smart terminal operation. It supports wall-mounted installation, mobile vertical installation, convenient and quick installation, ready to use, realizes efficient management before, during and after interaction, so that all communication resources can be fully utilized, and it is a truly "smart" terminal. The leaders fully affirmed LTV and praised the all-in-one with a thick bottom of only 29MM!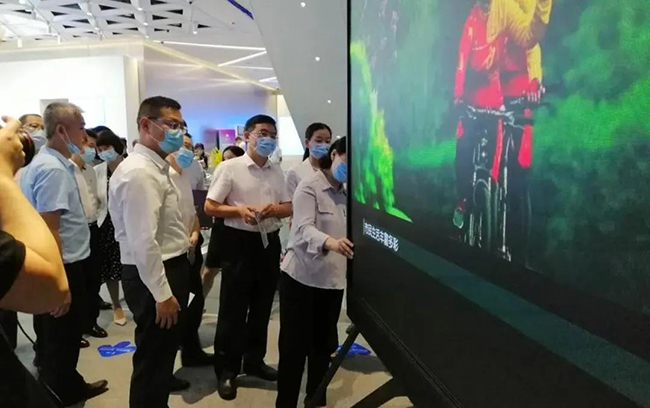 District Mayor Guo Ziping leads the leaders to experience the "intelligent terminal all-in-one"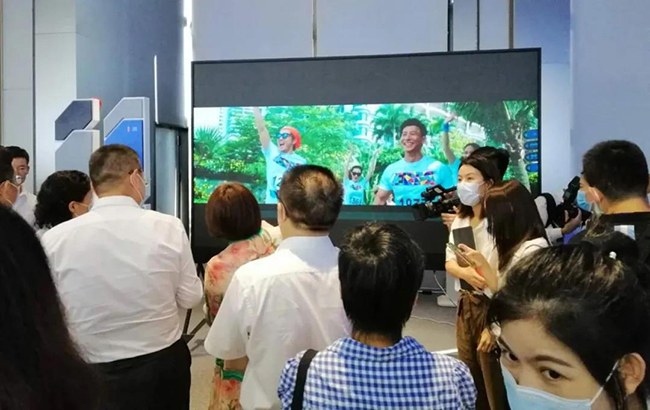 The smart all-in-one LTV is crowded with people
Hangcheng has obvious regional advantages, helping to accelerate the development of "enterprise"
LCF has been rooted in the Bay Area for 11 years. As a hub of the Greater Bay Area, Hangcheng Sub-district has a unique location advantage, a six-in-one transportation advantage, an industrial advantage for airport development, and innovation. Creative educational advantages;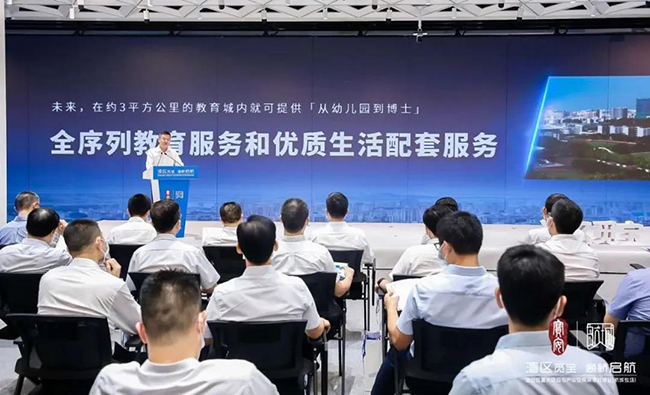 In 2019, Hangcheng Sub-district fixed asset investment increased by 64.0%, and the revenue of the service industry above designated size increased by 19.3%. There are currently 470 regulated enterprises and 418 national high-tech enterprises. There are 5 key municipal and district investment promotion parks, 5 scientific and technological peach blossom gardens, 1 national-level crowd-creation space, 13 provincial, municipal, and district-level scientific and technological innovation platforms, technical service centers, and 2 academician workstations. The Hangcheng district has gathered a number of high-end logistics companies such as Leap Express, SF Airlines, SF Express, and Post. It has attracted a large number of high-tech and high value-added airport-oriented industries to gather here; the manufacturing industry has a solid foundation and the industry Covering 29 of 31 manufacturing categories and 116 of 191 categories; many companies including "LCF" have established their own brands, and their products have maintained a leading position in the market.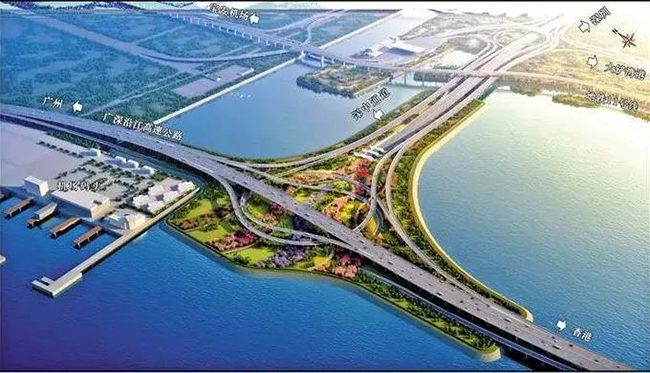 The Hangcheng special matchmaking conference will focus on the promotion of 32 parks with vacant industrial space resources (more than 2000 square meters), totaling 275,000 square meters. Among them, one of the highlights is the personal service of Aviation City's "tailor-made" industrial carriers for enterprises, the COFCO Joy Smart City with 700,000 square meters of floor space, and the Airport Eco-Industry City with an area of 1.18 million square meters. In the "Work to Work" project, the streets will be connected to the industry at the initial stage of industrial planning and project development, providing precise, menu-based, and customized services. At present, more than 20 companies are planning to move in, and there are a large number of industries in the two projects. The space is waiting to be booked, and the company can directly connect with the space to customize the personalized plant according to the company's needs.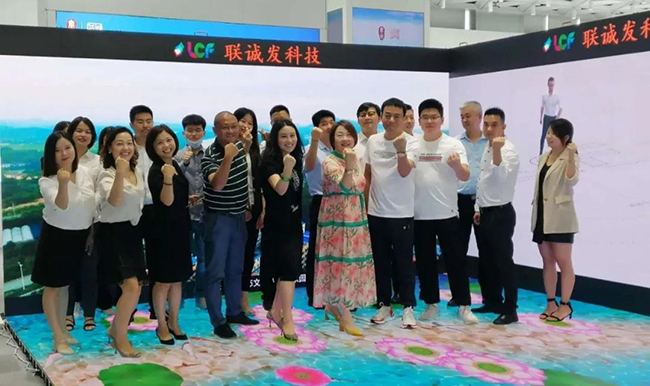 I am very grateful to the leaders of Hangcheng Sub-district and Enterprise Service Center in Bao'an District for their support for providing our company with such an opportunity for development, communication and docking. LCF will live up to expectations and make great efforts to make contributions to the economic development of Bao'an.