"Southeast Xingsheng, Sanwu City, Qiantang has been prosperous since ancient times. Smoke and willow painting bridges, wind curtains and emerald screens, there are hundreds of thousands of homes." The long history has left Hangzhou with a very rich cultural heritage, "light makeup is always suitable" West Lake has also made Hangzhou a "paradise on earth". From Kuahuqiao culture to Liangzhu culture, Hangzhou has formed one after another world-famous cultural peaks. They are the first dividing line between ignorance and civilization, and they are also the prelude and the first light of the long civilization of the ancient East.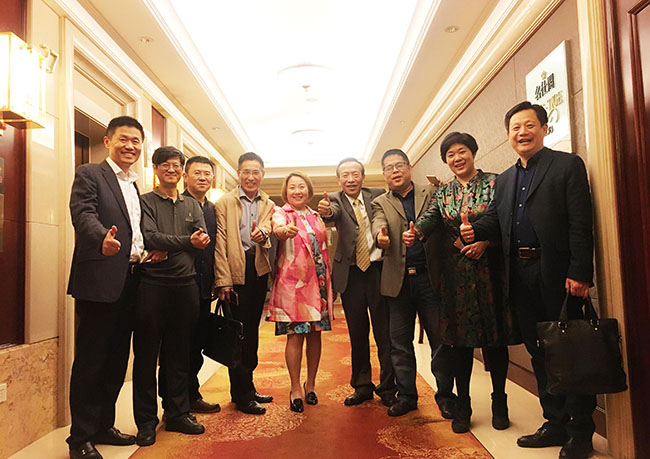 From March 29 to 31, 2018, the 3rd Zhejiang Smart City and Intelligent Building Products Expo was held in Hangzhou Peace International Convention and Exhibition Center. This exhibition attracted more than 200 companies with an exhibition area of 8,000 square meters. Lianchengfa (stock code: 837293) and Zhejiang Haocheng Technology participated in the exhibition with new LED display technology and new products to promote the joint construction of East China channels and seek business opportunities. While the exhibition is in full swing, the Lianchengfa National Channel Merchant Strategy East China Channel Dealer Promotion Conference held in Hangzhou Sanli Kaiyuan Hotel on the evening of March 30th-Chengying Vision's "Qiantang Nongchao" is for this time The exhibition merchants and distributors provided a more direct "communication platform", a more relaxed negotiation environment, and more familiar industry friends. In the atmosphere of enjoying the guests, the fraternity came to a successful conclusion.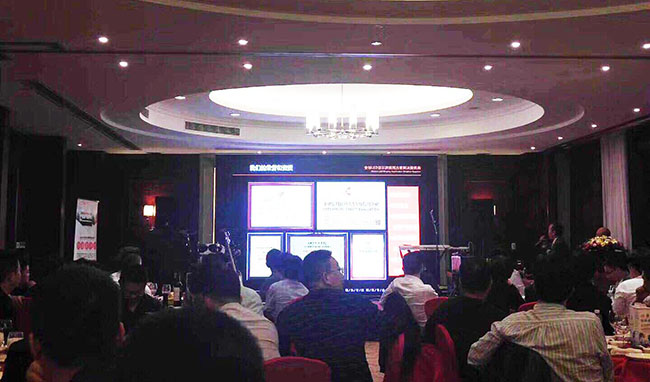 At this time, less than 20 days have passed since the first stop of the Lianchengfa Channel Alliance-(Zhengzhou) Station "Competing in the Central Plains", and less than a week since the ISA International Logo Exhibition in the United States. The compact layout still attracts many East China Local LED distributors and engineering companies actively participated. Leaders such as Ms. Long Pingfang, the founder of Lianchengfa, Mr. Cao Lixin, Secretary-General of China LED Engineering Association, and Mr. Zhang Yu, President of Wenzhou Semiconductor Optoelectronics Industry Association, attended the dinner and gave wonderful speeches. .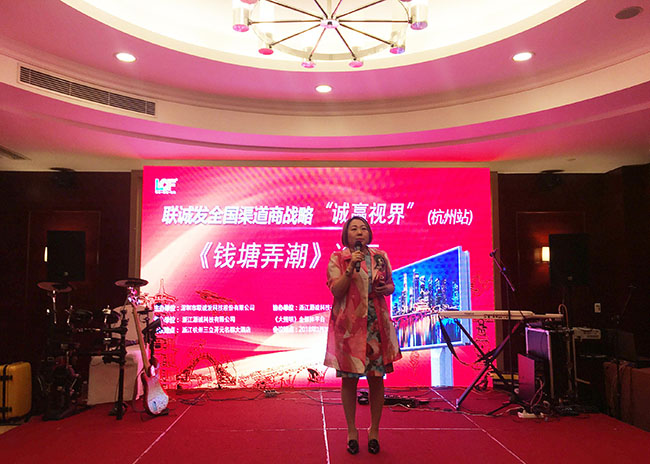 Speech by Ms. Long Pingfang, founder of Lianchengfa
In her speech at the party, Ms. Long Pingfang expressed that she hopes that through this face-to-face communication, we can unblock the information channels and use the rich resources behind you to form a joint force to help everyone find a win-win point and win new careers in the future. high! Lianchengfa's channel goal for this year is 300 million yuan. For this reason, we will select six excellent distributors in six major regions across the country to provide key support, create a channel investment environment with Lianchengfa's characteristics, and guide customers through agents. Perfect after-sales service to deepen the brand. At the same time, it has a good connection with the local in terms of capital, talents, and technology output, and radiates to the whole country from point to point, so that the channel dealers who follow Lianchengfa will be profitable, credible, dignified, and successful! In the future, I look forward to sharing 300 million blue ocean brilliance with everyone present!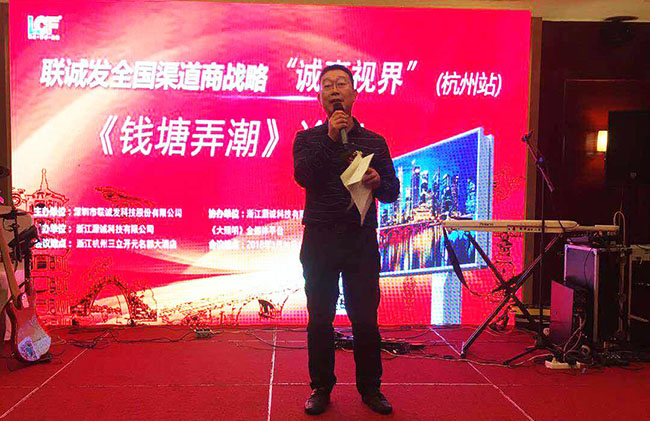 Speech by General Manager Li Fangzhen of Haocheng Technology
It is understood that since Hangzhou Haocheng Technology joined the Lianchengfa channel family, it has been highly praised by professional customers. Mr. Li of Haocheng Technology said: "Now that the LED market is very competitive, if you want to enhance the company's influence and competitiveness, you must pass on operating costs and take advantage of each. Lianchengfa is a high-quality, responsible, and trustworthy company. An enterprise has vigorous vitality and strong cohesion. Joining Lianchengfa is a mutual attraction and mutual choice between the two parties. We believe that through joint cooperation, we will be able to obtain what we need and achieve mutual benefits and win-win results."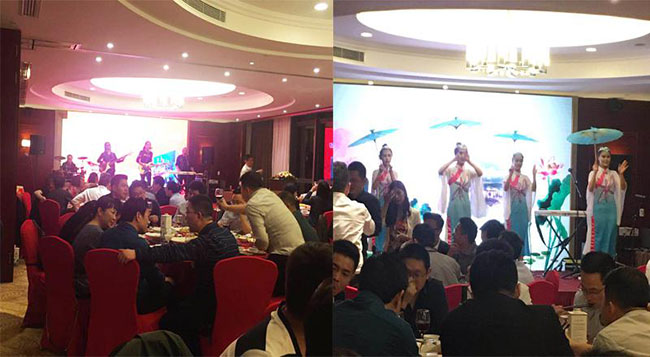 In the subsequent singing and dancing performances, the actors performed for everyone, singing and dancing, which was fascinating. Between the crowds of guests, Ms. Long Pingfang, the founder of Lianchengfa, and the company's business team, Mr. Yuan Xiaolan, the executive director of Zhejiang Haocheng Technology, and the business team, and Mr. Tian Shijie, the chairman of Zhengzhou Shijie Optoelectronics, a channel dealer in Liancheng's Central China , Mr. Yu Hao, general manager of Shanxi Hualong Optoelectronics, a North China channel merchant, sang the corporate song "Crystal Color" together with Liancheng, pushing the atmosphere of the party to a climax...
Behind the success of a brand is down-to-earth persistence and extraordinary efforts. After 14 years of ups and downs, Lianchengfa has become a global LED display application solution provider with its brand strength and strong product research and development capabilities. The addition of Zhejiang Haocheng Technology has established a good cooperation model for various channel vendors. I believe that more distributors will choose to join Lianchengfa in the future, setting off a new wave of channels in the LED field.