Recently, DAV digital Audio and Video Engineering network, "Digital Audio and Video Engineering" magazine hosted the results of "2018 digital Audio and video Engineering Industry top Ten Brands" selection activity has been fresh out, DAV digital audio and video engineering network, "digital audio and video Engineering" magazine awarded MEDALS to the winners. In this evaluation, LCF won the "LED Small spacing Excellent brand" award.
As one of the authoritative award events in the industry, "Top 10 Brands in Digital Audio and Video Engineering Industry 2018" has been successfully held for ten years. This year's selection lasted for 60 days, and the primary list was generated after the network secret ballot of manufacturers, design institutes, distributors, engineers, end customers and media practitioners. Then the authoritative experts of the digital audio-visual engineering industry conduct comprehensive evaluation on the product research and development strength, market share, user satisfaction and many other indicators of the shortlisted enterprises, and the final selection list is born, which is undoubtedly the highest affirmation of the comprehensive strength of the winning enterprise brand.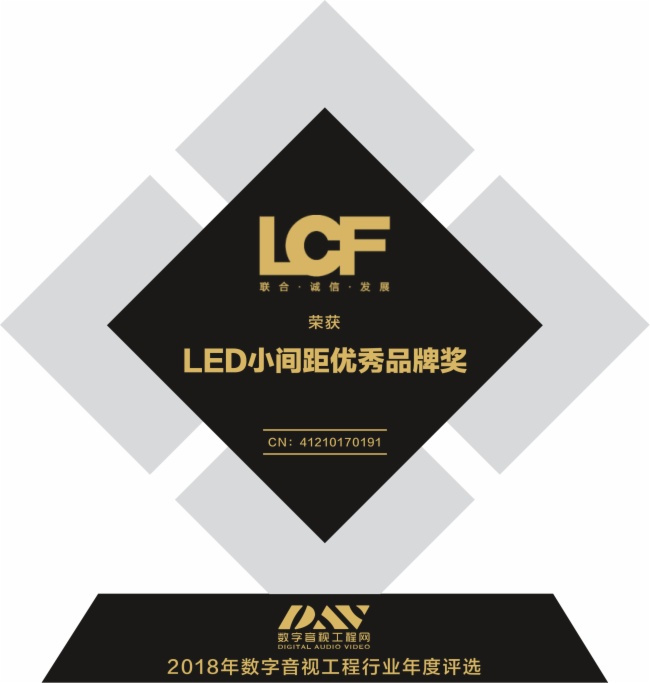 LCF "2018 LED Fine Pitch Excellent Brand" Trophy No. CN: 41210170191
This award is mainly for LCF mini-LED "Chasing dreams" series. Compared with the traditional small-pitch LED display screen, the products of LCF fine-pitch "Dream Chasing" series are exquisite and exquisite. Compared with the traditional small-pitch LED display screen, the products have different degrees of technological improvement in pixel density, color effect, reliability, pixel granulation and other aspects, with stronger appreciation and attraction. The mass production of Mini-LED is a major breakthrough of LCFin the field of small spacing, and this product is also very cost-effective and competitive, bringing rapid growth of performance, and will accelerate the penetration into more terminal product markets in the future.
Shenzhen LCF Technology Co., Ltd. was founded in 2004, is one of the first certified national high-tech enterprises, the main LED full color HD display, LED green lighting, LED energy-saving lighting three series of products. The company pays attention to its own brand building and LED new product research and development, products are widely used in outdoor advertising media, cultural entertainment activities, stadiums, stage rental, municipal engineering and other fields.