When we talk about youth
Always think of infinite vitality
And full of vitality
It is the vegetation that flourishes in early summer
It's also a beautiful and precious time in time
More often
It's not just a dividing line in the growth period
It also represents a positive and enterprising spirit
Don't fly in fantasy, don't dwell in imaginary sound
Keep running and keep moving forward
Plant a plane tree to attract the phoenix to live
The scientific top-level design determines the development momentum and internal driving force of an enterprise. Before its establishment, Lianchengfa has set a clear strategic goal and vision: to become the most innovative leading enterprise in the industry. At present, Lianchengfa's senior management is composed of senior elites with more than ten years of industry experience. They have rich practical and theoretical experience and have a forward-looking market insight. Group founder Long Pingfang, chairman and general manager Huang Qingfeng, technical director Gu Wei, research and development director Liu Zixiang, financial director Wu Yanming, operation director Liu Yan, channel director Zhang Xiaoling... Talented and hardworking teams have formed an indestructible team The backbone.
At the same time, a clear division of job powers and responsibilities, fair and just performance appraisal standards, and a complete salary management system provide an inexhaustible motivation for the introduction of talents in the company. We will share responsibility and grow together, brave hard work, and be unwilling to succeed. For a certain project, everyone often worked tirelessly to discuss and modify the plan together, and devote themselves wholeheartedly to it, without even noticing that the clock was pointing to zero; for a certain event, the friends also worked hard and offered suggestions...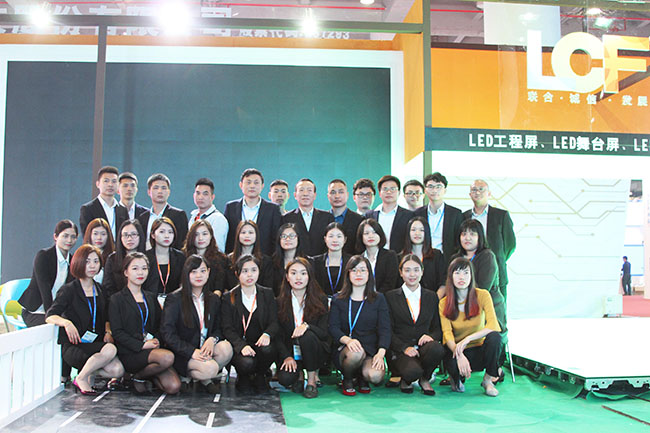 Group photo of the marketing department participating in the Guangzhou exhibition
Service has an attitude, youth has a voice
As a brand enterprise in the LED display industry, for many years, Lianchengfa has been insisting on making good products, being a conscientious enterprise, and being a grateful enterprise, committed to the development of social charity, and vigorously assisting the disadvantaged groups in society. The founder of the company, Ms. Long Pingfang, even took the lead in calling everyone to actively participate in various social welfare activities. The company has been commended and rewarded by the government and related departments many times.
Organizations have needs, goals in their hearts, and actions in reality. This is the strength of the team and the essence of struggle. I hope that life will not end, struggle will not stop, and youth will not thank you. When dedication becomes a habit, warmth also becomes a habit. Here, I also call on more friends to participate, inherit and consolidate the spread of love and hope, and give back to the society!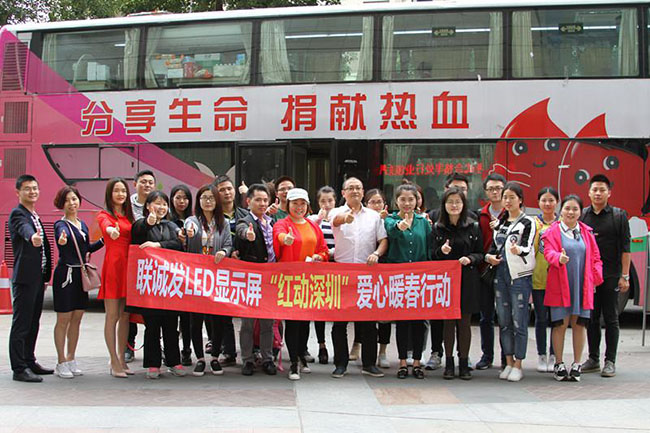 Red Action Shenzhen" Love and Warm Spring Voluntary Blood Donation Activity
Gathering is a ball of fire, turning into gypsophila
The Lianchengfa family members from all corners of the world may have been confused and wandering, but more of them are advancing on the creeping; perhaps there have been faults and melancholy, but more of them are gaining from setbacks; perhaps they have retreated. , I have had panic, but more often grow up in adversity. While talking and laughing, between the fingers, youth has flowed with life, leaving only the footprints of struggle.
Happiness is the result of struggle. On the road of struggle, everyone hopes that they have the ability to be cloned. One person eats, drinks and plays and enjoys life, and the other strives for a career. The friends have grown into talents in their respective positions, shining radiantly, taking the company as their home, running and moving forward, and naturally they can continue to harvest.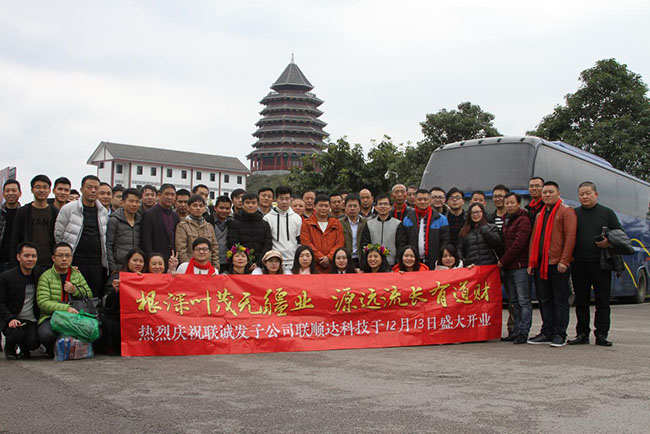 Guizhou Huangguoshu Tour
Ambition to stay high and bravely climb new heights
People have been learning how to mature since they were born, and the same is true for enterprises. Although it has gone through 14 years of ups and downs, Lianchengfa has not slackened on its own achievements: Lianchengfa was established in 2004, but a production line, but Can successfully complete the Shenzhen Metro Phase I project display screen project. In 2005, Lianchengfa has extended its tentacles overseas and exported its self-developed R&D full-color display to Laos. In 2010, the product passed the national 3C certification, successfully applied for the registration of its own brand trademark, and the project entered Beijing Bird's Nest. In 2016, it was successfully listed on the NEEQ with the stock code of 837293. In 2017, the holding subsidiary Lianshunda opened its doors. At the same time, it has more than 20 exclusive overseas agents and several national provincial agents, and won the title of Top 100 Enterprises on the NEEQ... Such a resume is an unsurpassable height for many companies, but for Lianchengfa, the past achievements are all in the past. The goal of a century-old enterprise is still far away, and the IPO is still calling for it!
The white clouds hang far away from the sails and the heart broad rivers. In spite of the roughness, I want to climb; in spite of all the difficulties, I will walk together! Common values and pursuits make us unite and unite together. The times have sounded the horn, if you want to become better, please guard your original intention and grasp the present; please forge ahead and embrace the future; please remember: no struggle, no youth.