No matter in terms of cost, scale or efficiency, China's LED direct-emitting display (hereinafter referred to as LED display) supply chain has already become the global LED display supply center. Technological advancements in the LED display industry have resulted in a significant reduction in pixel pitch size and ensured the development of smaller-pitch products in the commercial market in response to the continuous expansion of LCD products within the LED display ecosystem.
With the advancement of technology in the LED display industry, the average pixel pitch has declined

The latest technological developments in Mini LED-backlit TVs and investments in Micro LED TVs through competition in the TV industry have not only expanded the existing supply chain capabilities of LED-related products, but also enhanced the overall LED ecosystem. These advancements are being supported by traditional LED display panel manufacturers, especially in China, as the LED supply chain is fully established as a global LED supply center in terms of cost, scale and efficiency. Another noteworthy trend in the LED industry is that with the improvement of product stability and marketability in various scenarios, the pixel pitch is significantly smaller.
Just a few years ago, compared with other technologies, LCD video walls were widely used in the command and control room market with the advantages of price advantage, high picture quality and easy assembly. However, even with the development of the current PID panel with a minimum seam of 0.88mm, it is still unable to overcome the bottleneck of physical seams and product iterations. In the past two years, despite the high price, 1.5mm, 1.2mm dot pitch LED displays have gradually begun to attract attention, because LED displays are the only products that can achieve no physical seams, thus forming an alternative to LCD video wall products. . At present, LED displays with 1.2mm dot pitch are more and more common in command and control rooms, and products with 0.9mm dot pitch are also emerging rapidly.

According to Omdia's latest "LED Display Panel Market Tracking Report", the report now includes average pixel pitch information, which is calculated by a weighted average to obtain the average density of pixels distributed over the entire LED display area. In the report for the first quarter of 2022, the average pixel pitch of LED displays sold in the global market is expected to drop sharply from 3.1mm in 2019 to 2.1mm in 2026. Omdia defines small pitch (FPP) as LED display panel products within the <=1.99mm dot pitch category, and the global average pixel pitch in 2026 is 2.1mm, which is close to this category.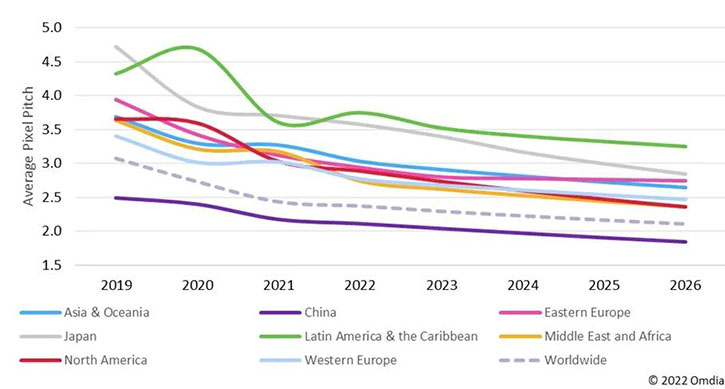 Source: Omdia LED Video Displays Market Tracker, Premium–Pivot–History + Forecast–1Q22

The average pixel pitch in China has dropped the fastest, leading the global trend of smaller pixel pitch. The recently released ProAV Vertical Market Tracker (ProAV Vertical Market Tracker – 1Q22 Database) shows that in China, the penetration rate of direct-emitting LED (dvLED) displays relative to LCD products is the highest among other regions, especially in Transportation, Hospitality/Medical and Control Room areas. Among indoor FPP (<=1.99mm dot pitch) videowall products in China, LCD videowall has a 69% share compared to LED videowall in 2019, and Omdia predicts that by 2026, LCD videowall's share will drop to 30% %. From a global perspective, Q1 2022 shows that LCD videowalls account for nearly 58% of the total display area of the Pro AV videowall market (for more details, see "Video Wall Solutions: A Snapshot of LCD vs. LED Penetration", " Video wall solutions: A snapshot of LCD versus LED penetration").


North America and Western Europe follow China, with an average pixel pitch of 3.0mm in both regions in 2021, and are expected to have pixel pitches below 3.0mm in both regions in 2022. Enterprise applications in both markets have been among the fastest growing in the Pro AV industry over the past few quarters, including corporate office spaces, reception rooms, conference rooms, training centers, video production and broadcast studios, and more. Currently, emerging markets for fine-pitch LED displays in enterprise applications include 1.5mm or 1.8mm pixel pitch products for broadcast studios, followed by 2.5mm dot pitch products for virtual production (VP) and extended reality (XR). This type of product has also been used in large enterprise environments such as internal training and demonstrations.